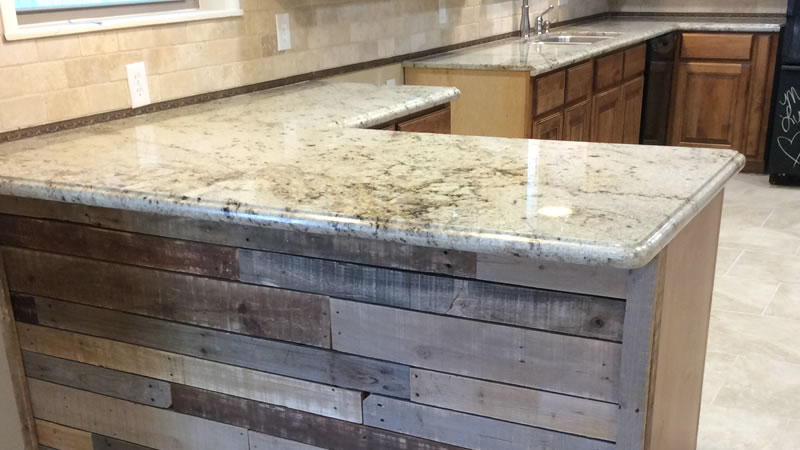 The Kitchen Remodeling Debate: Quartz vs. Granite
Which one of these countertop materials should you choose?
You've narrowed down the entire design of your kitchen. You have the new flooring and cabinetry selected, the refrigerator, stove, and microwave all feature stainless steel finishes that match, and you chose the perfect paint backdrop to counterbalance the backsplash.  But, you are still trying to bring the entire space together, and this is where the decision between quartz countertops and granite countertops comes into place. You know each of these materials is durable, easy to care for, and gives off the luxurious finish you want displayed in your kitchen. But, the maintenance, longevity, design, and overall balance, and of course, your budget, are also relevant factors in the decision-making process when choosing your new countertops.
When the time comes to decide on a new countertop replacement, which material is right for your home? What's going to bring the space together? And, how can you narrow down the options as it pertains to color, finish, and detail? Let's consider some of these basic factors to help you best determine if you should go with quartz countertops or if new granite countertops are the best option for you to choose, when the time comes to finalize your kitchen remodeling project.
Surface Temperatures
One of the primary benefits of choosing granite countertops over quartz countertops is the fact that hot pots and pans are more likely to burn through quartz than they will through granite. Granite is formed under intense heat pressures and is impervious to it, meaning it won't get damaged in the hottest temperature conditions. Although hot pots and pans might damage sealant on granite, they won't do any damage to the actual stone.
Quartz isn't nearly as heat-resistant as granite is. This isn't to say you're going to see ring marks from pots and pans on the quartz surface, but it's more likely to occur under extremely hot conditions.
Stain Resistance
A second factor to consider when choosing new countertops is how stain-resistant the surfaces are. This is especially important if you are planning on going with a lighter granite or quartz material finish for the new countertops for your kitchen. Both are fairly impervious to most staining and will hold up well for years to come as long as they're well taken care of. But, quartz does a little better when it comes to certain foods that stain easily. Beets, juices, and even certain burn marks, are less likely to appear on a quartz surface, than they will on a granite surface.
Again, the color you choose is also going to help in stain fighting; if you go with darker quartz countertops or granite countertops, both are going to hold up well. If, however, you plan on choosing a white, off-white, gray, or a similar, lighter color, granite is the winner here.
The Appearance
You want your kitchen to look good, right? Obviously, it's the reason you're spending all this money to remodel it. So, which material is going to look better? This is honestly a personal choice. Both granite countertops and quartz countertops have a luxurious appearance, they come in various colors, and they blend in well with most modern kitchen decor. Some things to consider as it pertains to appearance include:
Quartz is manufactured, not natural (meaning every slab has a different appearance)
Quartz has more layers, design flaws, and deviations (again, if you prefer different and unique, this is it)
Granite is manufactured, it provides a clean, streamline appearance throughout the countertop space
Marble veining… you can do this with quartz (plus quartz comes in more color varieties than granite)
You'll have to ask yourself several questions when the time comes to decide on the right countertop replacement for your kitchen. Both quartz countertops and granite countertops have their own distinct features than set them apart.  Ultimately, it's a personal decision for each homeowner, so do your research and compare a few suppliers to find the best fit for your home.
Care/Maintenance
You don't really have to scrub the countertops everyday to keep them looking new and fresh, do you? If you want to preserve the appearance of the quartz countertops and granite countertops, some upkeep is going to be required. But, which of the two materials is easier to care for and requires less maintenance?
Granite is made of natural stone and is resilient, if properly cared for, it will last for a long time. The cons? If you spill something, you need to wipe it immediately (especially something like the beet juice mentioned above). It absorbs liquids faster, and bacterial buildup in the pores of the surface is more likely to occur on granite than on quartz countertops. A sealant has to be reapplied every couple of years on granite as well, to help preserve the surface and protect it from peripheral scratches.
Quartz countertops are non-porous. This means spills don't cause bacterial buildup and you don't have to clean them as often. They are more resistant to stains and don't show dirt as much as granite is going to. If you're dealing with liquids or foods with heavy dyes, however, this will cause stains to seep in quickly. So, in these cases, you do have to wipe up the surfaces quickly.
The clear winner in upkeep and maintenance is quartz. It doesn't require nearly as much attention, and you don't have to reseal it as often (which will save you some money in the long run).
Durability
You want your new countertops to last for years to come. So, you need to know which of the two countertop replacement material options is going to last longer. With granite, you get countertops that:
Resist chipping and cracking well
Feature rounded edges so they blend in well with the kitchen scape
Don't stain that easily and have a solid seal atop to protect the surface
Then, you have the option of quartz countertops. Some of the benefits you'll realize in terms of the durability and material quality of quartz include:
It's engineered, so it is resistant to heat
The manufactured material is porous so won't expand (which can cause cracking)
It won't get damaged if you cut on the surface (within reason, of course)
There are resins in the material, so it is more flexible than natural stone materials
Each material is durable, but the fact that quartz countertops are manufactured, means they are a little more durable. They don't require as much care or upkeep either, so this is something to consider if you want the longest lasting material finish for your kitchen.
The Resale Value
Planning on reselling your home in the near future? If the reason you're considering new countertop replacement materials is to resell the home, you obviously need to choose the right material that is going to appeal to most buyers. But, will quartz countertops help increase the resale value of your home more so than the granite countertops (or vice versa)?
Granite countertops are highly sought out by buyers in the marketplace today. In fact, they can draw in 100% of the resale value (meaning it would be like you didn't spend anything on the countertops), and in some cases, they can increase the home's resale more than this. This is surely a selling point for buyers who are planning on putting their home up for sale on the market in the near future.
Quartz countertops, on the other hand, are a little newer, it doesn't have as much of an appeal as granite countertops do. Most people are familiar with granite, they know how well it holds up, how good it looks, and how elegant it appears. Although quartz is making its way onto the market more and more, it still doesn't have the appeal to many buyers, as granite is going to have. This isn't to say you won't see a return if you install quartz countertops when you turn around and sell the home, however, it is likely you are not going to see as much of a return when you put the home up for sale.
The Price
Both quartz countertops and granite countertops are on par in terms of pricing. Of course, things like:
Color
Design
Veining (adding marble or other finishes throughout)
Custom cutting/sizing
Custom design styles or finishes
And, other personal finishes can add to the price you're going to pay for either new countertop replacement. But, if budget is a concern, the major difference you'll see in pricing is likely going to be in the contractor you choose to hire to do the installation work. And, if you bundle the entire kitchen remodeling job with one company, many will give you preferential pricing on the granite or quartz countertops you choose.
Granite or quartz? Each has its own appeal and benefits. These are a few of the primary factors to consider when you're making the decision. Ultimately, personal preference, color, design, and customization features, will push you over the top. But, make sure you consider some of these relevant decision-making points when the time comes to decide on the best new kitchen countertops for your home.
Marble Craft Sells And Installs Both Quartz & Granite Countertops
Marble Craft is a home improvement and remodeling contractor based out of Bryan Texas and serving clients throughout The Brazos Valley.  We specialize in Granite, Quartz, and Marble.   If you're still having trouble deciding which countertop material to choose come on down to our showroom and we can show you the various products we carry so you can compare them "hands-on".  We can send you home with samples to help make your decision even easier.  If you'd like we'd also be happy to come take a look at your kitchen and help you make a great decision.
If you'd like to schedule your consultation and estimate with Marble Craft to remodel your kitchen and replace your countertops please give us a call (979) 846-3881 or fill out our online contact form and we'll get right back to you.