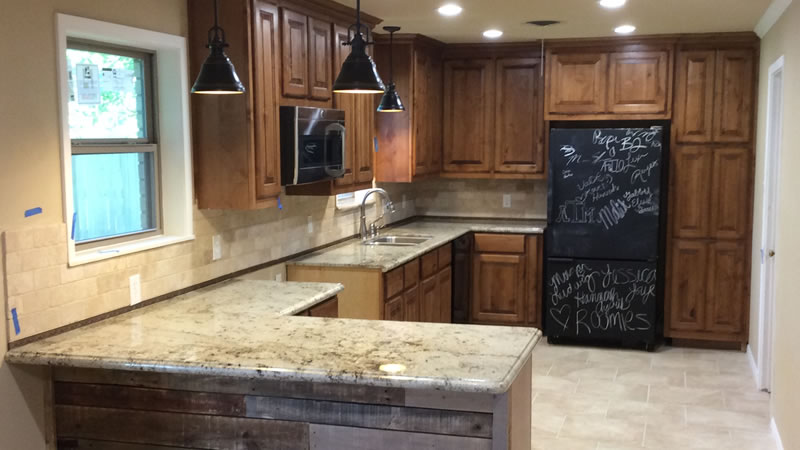 New Kitchen Countertop Installations
Kitchen countertops add beauty and elegance and more importantly, function to any kitchen.  If your kitchen is old and dated or your existing countertops are worn out then it might be time to consider replacing them.
Why Do You Want New Kitchen Countertops?
Are your current countertops dated and in rough shape?
Are you going through a kitchen remodel?
Are you building a new home?
Marble Craft is a kitchen countertop supplier and installer based out of the Brazos Valley in Central Texas.  We specialize in the sales and installation of beautiful new Granite countertops for your home or business.  Whether you want new countertops in your kitchen, bathroom, or your professional offices, we'll be able to help you.  We have the largest selection of Granite, Quartz, and Marble countertops in the Brazos Valley and have dozens of unique patterns and color choices for you to choose from.  Visit our showroom today and one of our professionals will work with you to find the perfect Granite pattern and color for your remodeling or renovation project.
How Does The Process Work?
#1.  Contact us through our website or feel free to come on down to our showroom for a visit.  You can browse the selection of countertops we have in stock and also the many custom options we can put together using Quartz or Marble.  You will be provided samples to take home and compare.
#2.   Once you've chosen a material for your countertops we'll need to visit your home and measure out your existing countertops exactly.  We'll need to take into consideration any customization that might be required to provide the best possible fit.
#3.  When we've taken all of the measurements we can provide you with a cost for installation.  Our installation quote will cover the cost of removing your old countertops, reinforcing any cabinetry if it's required, fabrication of the countertops, and lastly installation.
#4.  Once you've decided to move forward with the project we can begin fabricating your countertops and schedule an installation date with you to install them.
Marble Craft has been providing Quartz, Marble, and Granite countertop fabrication and installation services since 1999 and we've installed thousands of countertops for our clients since that time.  With a large selection of Quartz, Granite, and Marble on-site, professional and knowledgeable staff, and great pricing, you'll find what you're looking for at MarbleCraft
If you'd like to schedule a showroom appointment with one of our kitchen countertop specialists or you'd to arrange for an in-home consultation please give us a call (979) 846-3881 or fill out our online contact form and we'll get right back to you.