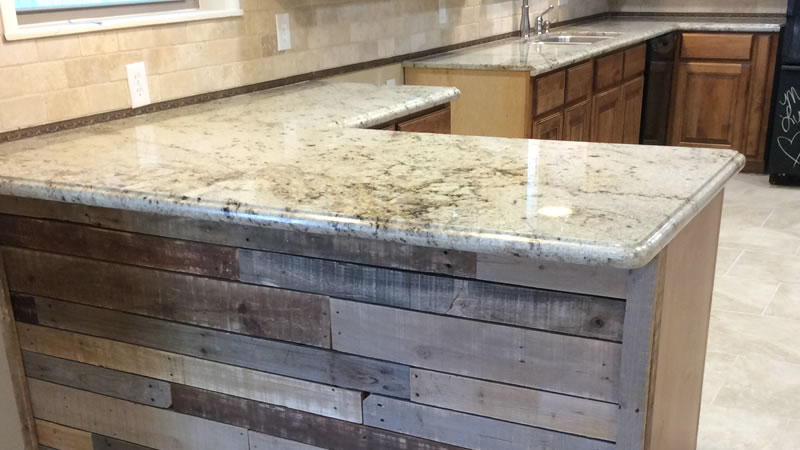 Granite Countertops Sales and Installation
If you love the look of natural stone then Granite is an excellent choice for your new countertops.  Granite is extremely durable, it's unique as no two slabs will be exactly the same, it is easy to maintain, and it adds elegance and class to your space.  If properly taken care of your granite countertops will last for decades.
Marble Craft is a Granite countertop supplier and installer based out of the Brazos Valley in Central Texas.  We specialize in the sales and installation of beautiful new Granite countertops for your home or business.  Whether you want new countertops in your kitchen, bathroom, or your professional offices, we'll be able to help you.  We have the largest selection of Granite countertops in the Brazos Valley and have dozens of unique patterns and color choices for you to choose from.  Visit our showroom today and one of our professionals will work with you to find the perfect Granite pattern and color for your remodeling or renovation project.
The Granite we sell and install has taken mother nature millions of years to create.  Granite is made up of silica, quartz, and feldspar and is considered an igneous rock.  Igneous rock, like Granite is formed through the cooling and solidification of volcanic magma.  There are Granite quarries all over the world, discovered by geological prospecting.
When Granite is discovered a quarry is made around the deposit to mine and extract it.  Large blocks of Granite are extracted weighing as much as 25 tons!  These large blocks of Granite are then shipped around the world to various manufacturers who cut and polish the Granite into the beautiful and unique slabs you're used to seeing as countertops.
Marble Craft has been providing Granite countertop fabrication and installation services since 1999 and we've installed thousands of countertops for our clients since that time.  With a large selection of Granite on-site, professional and knowledgeable staff, and great pricing, you'll find what you're looking for at Marble Craft
If you'd like to schedule a showroom appointment with one of our Granite countertop specialists or you'd to arrange for an in-home consultation please give us a call (979) 846-3881 or fill out our online contact form and we'll get right back to you.