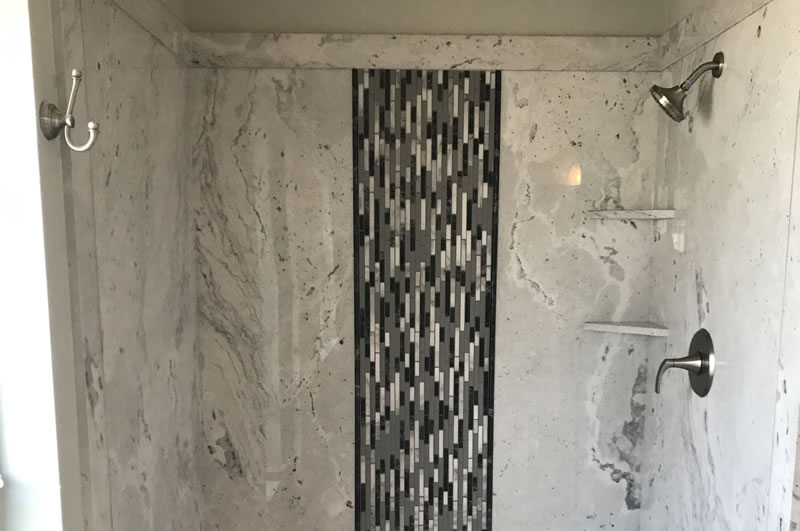 We Build Beautiful Cultured Marble Showers
The cultured marble we use for showers is actually a blend of stone granules and special resins that are combined with pigments to produce wide variety of colors and realistic, natural looking patterns. Unlike quarried stone that is pulled from the ground and cut into slabs, cultured marble is actually cast in special molds which creates very specific pieces such as bathtubs, sinks, countertops, backsplashes, shower walls, and shower pans.  Marble is an amazing material for your shower as it's non-porous, easy-to-clean, has no grout lines, and it adds elegance to your space.
Marble Craft is a shower remodeling company based out of the Brazos Valley in Central Texas.  We specialize in the fabrication and installation of beautiful new cultured marble showers for your home.  Whether you want a new walk-in shower, a corner shower, or a new surround, we'll be able to help you.  We have the largest selection of cultured marble in the Brazos Valley and have dozens and dozens of pattern and color choices for you to choose from.
Visit our showroom today and one of our professionals will work with you to find the perfect cultured marble pattern and color for your remodeling or renovation project.
Benefits To Using Cultured Marble For Your Shower
Customizable – Because marble is cast, it can be customized for your specific space.
Beautiful – Natural veining and patterns can be added during the casting process.  This creates character, depth and interest that mimics natural marble.
Low Maintenance – Cultured marble doesn't need sealing and is very easy-to-clean.
Durable – Cultured marble is non-porous, making it extremely tough and resistant to stains, mildew and chips.
Marble Craft has been providing cultured marble shower installation services since 1999 and we've installed hundreds of showers for our clients since that time.  With a large selection of Marble on-site, professional and knowledgeable staff, and great pricing, you'll find what you're looking for at Marble Craft
If you'd like to schedule a showroom appointment with one of our shower remodeling specialists or you'd to arrange for an in-home consultation please give us a call (979) 846-3881 or fill out our online contact form and we'll get right back to you.