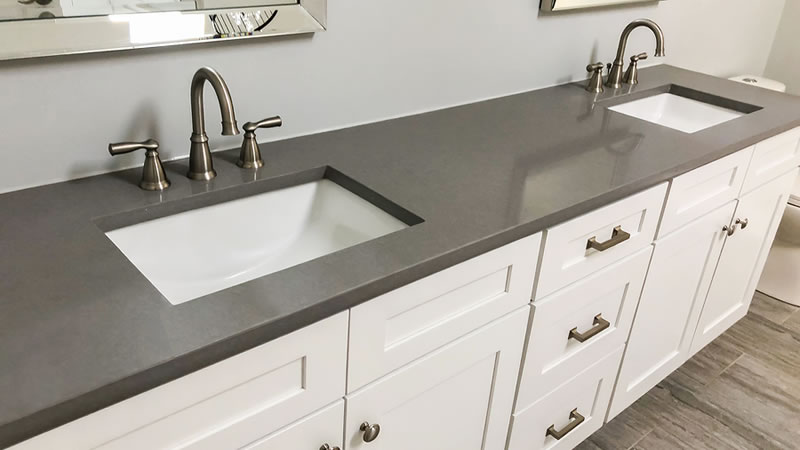 The Finest Quartz Countertops In The Brazos Valley
Quartz has quickly become a very popular material for countertops in kitchens, bathrooms, professional offices, and more.  Because of the way Quartz countertops are manufactured they lack the natural imperfections of stone surfaces like granite or marble.
Quartz countertops are manufactured using a specific process that involves combining ground-up quartz crystals with special resins and then they are combined under high heat and pressure.  The countertops are cooled and then polished or honed to achieve the final finish.  The end result is a beautiful, smooth surface that is available in a wide variety of patterns and colors.  Whereas stone countertops come from a quarry and must be cut into slabs.
Marble Craft is a Quartz countertop supplier and installer based out of the Brazos Valley in Central Texas.  We specialize in the fabrication and installation of beautiful new Quartz countertops for your home or business.  Whether you want new countertops in your kitchen, bathroom, or your professional offices, we'll be able to help you.  We have the largest selection of Quartz countertops in the Brazos Valley and have more than 275 pattern and color choices for you to choose from.  Visit our showroom today and one of our professionals will work with you to find the perfect Quartz pattern and color for your remodeling or renovation project.
Quartz Countertops
Custom Quartz Countertops
Silestone Quartz Countertops
Cambria Quartz Countertops
Marble Craft has been providing Quartz countertop fabrication and installation services since 1999 and we've installed thousands of countertops for our clients since that time.  With a large selection of Quartz on-site, professional and knowledgeable staff, and great pricing, you'll find what you're looking for at Marble Craft
If you'd like to schedule a showroom appointment with one of our countertop specialists or you'd to arrange for an in-home consultation please give us a call (979) 846-3881 or fill out our online contact form and we'll get right back to you.